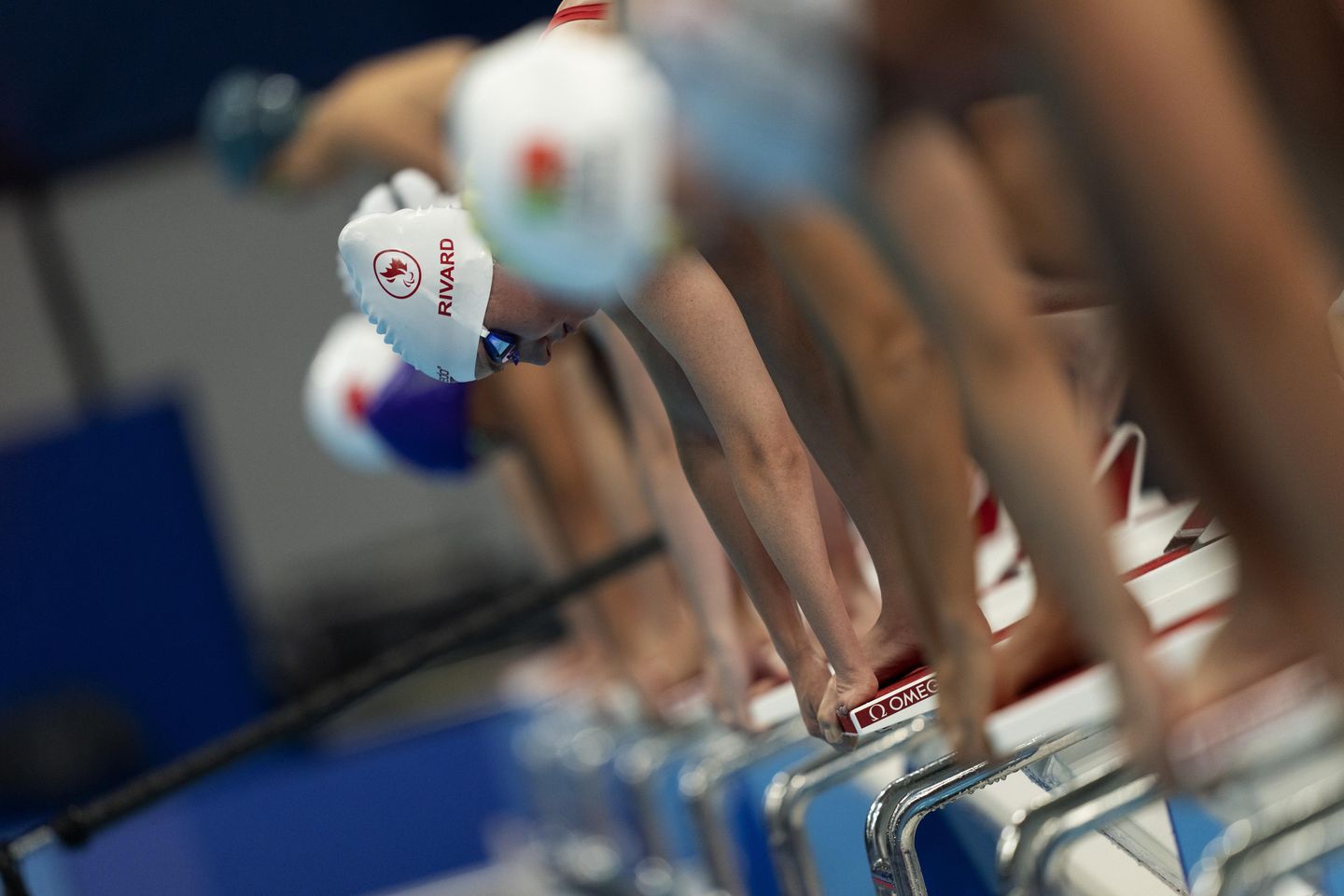 Paralympic champion swimmer Morgan Stickney is waiting on a medical miracle.
But until it gets here, she's got school to finish, races to swim and titles to defend at the Paris Paralympics Games next summer.  
The 25-year-old college student, who won two golds at the 2021 Tokyo Paralympics, is a bilateral amputee who faces further losses unless a bone marrow transplant can halt the exceptionally rare cardiovascular condition blocking blood flow to her limbs.
A staph infection meant amputating her left foot below the knee in 2017. Three years later, that circulatory problem cost her right foot.
She's training for Paris despite facing further health challenges: she's in a Boston hospital each month for eight to 10 days getting IV treatments "to try to help my limbs get enough blood flow."
"My disease is continuing to progress," Ms. Stickney said. "At this point, my left arm specifically and my knees aren't getting quite enough blood flow. I've been told that eventually I'll lose both of my knees and both of my arms from this disease."
The next step, following the 2024 competition, could change that prognosis.
"We're actually exploring doing a bone marrow transplant after Paris to see if something like that would kind of help," she said, "because a lot of times they'll do that in rare genetic situations."
Recovering her dream
Swimming and pursuing an Olympic medal — a dream she had as a teenager — seemed lost at that point.
On a video call from her home, Ms. Stikney said, "After losing both legs, I never thought I'd get back into swimming. I kind of just decided I was done with the sport."
But at Spaulding Rehabilitation Hospital in Boston, a doctor encouraged her to use the facility's pool for physical therapy.
"I got in the pool, and they couldn't get me out of the pool," she recalled. "It was safe to say that I fell back in love with the sport. And then that kind of sparked a little fire inside of me, I guess … to go to the Paralympics."
Ms. Stickney said she rediscovered her sport in February 2020, one month before COVID-19 shut the world down. The announcement of a one-year delay for that year's Olympic and Paralympic Games gave her an extra year to prepare. She began training two to three times a day.
Her evangelical Christian family moved from their home in New Hamshire to North Carolina so Ms. Stickney "could train at a better facility" and work with a coach that trains swimmers like her.
"I just tried really hard for the next year to see if I could make the Tokyo team," she said. "I went into the Paralympic Games with the fastest time in the world."
The hard work paid off: In the 400-meter freestyle, which she called "my best event," Ms. Stickney had a disappointing start, but a self-directed pep talk turned things around.
"I was like, 'Morgan, you're at Tokyo right now. Like, give it everything you got. There's a gold medal on the line,' and so I kind of just kicked it in," she recalled.
She said she was "three or four seconds behind in second place and within the last 15 meters I was able to pull out a win by over a second," with teammate Jessica Long — also a bilateral amputee — taking the silver.
"Being able to get the gold medal was just amazing," Ms. Stickney said. "There's kind of nothing like it when you hear your national anthem getting played and it's really just a huge honor."
Family, faith keep her going
Her family and her faith have helped her through, she said.
"My family, they're also Christians and being able to pray with them and try to make sense of everything that I'm going through has been really beneficial," Ms. Stickney said.
At the same time, she admits "it's been really hard for me" to deal with her disease and the challenges of growing up, training, and attending college. On Friday, she graduates from Biola University with a bachelor's degree in applied psychology.
"I've also been really fortunate to be able to go to Biola and have professors that are able to pray for me and I can explain my situation to and they're really just able to be there for me," Ms. Stickney said. "I feel like really [at] any other university it wouldn't be that way. I've known a lot of my professors since freshman year and over the past six years. I've shared my journey with them and they've been able to pray for me and everything which has been absolutely incredible."
Inspired by the care she got at Spaulding, she hopes for a career as a physicians assistant in rehabilitation. Because her condition is genetic, Ms. Stickney said she hopes to have a family through adoption.
In conversations about her life, she returns to the Christian faith she said has seen her through.
"I give God so much credit for helping me get to where I'm at today," she said. "Without having him by my side. I definitely wouldn't be where I am."
There are "the bad days" when understanding her experiences is "really hard," she said. That's when "I'll just put worship music on and kind of use that as my cry to God and as my prayer."
She said, "It's been really hard for me to accept everything I've gone through, but through faith I've really learned to just be grateful for what I do have. … Whatever the reason is, I know that God has a reason why I've gone through all this and I continue to be able to help other people no matter the circumstances."