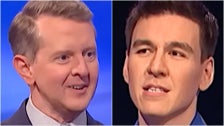 Holzhauer, the second all-time regular season earnings champ behind Jennings, returned to play "Jeopardy! Masters" on Monday. But this time, Jennings was the host and Holzhauer was among a handful of "Jeopardy!" greats back for the alumni tournament.
By the Final Jeopardy! of one game, Holzhauer held an insurmountable lead, and the clue was: "Opened in 1909 & less famous than an older neighbor, it connects Brooklyn & Chinatown."
After the first two contestants gave their answers, Jennings noted that Holzhauer had started filling out his own response while Jennings was still reading the clue.
"What bridge did he think of?" Jennings asked.
But Holzhauer didn't even write an answer to that particular question. Instead, he wrote: "Stop ducking a rematch, Ken."
The host laughed as he read the response, saying, "You know how much work I had to go to to get all the way over here at this lectern and avoid having to play you again, James?"
Presumably referencing the "ducking" part of his answer, Holzhauer joked, "This is autocorrected, by the way."
Holzhauer, who owns the top 10 highest single-game cash totals, lost to Jennings, who has the longest winning streak at 74 games, in the game show's "Greatest Of All-Time" tournament in January 2020. Jennings won three matches to Holzhauer's one in a showdown that also included Brad Rutter.
It appears Holzhauer hasn't quite gotten over it.