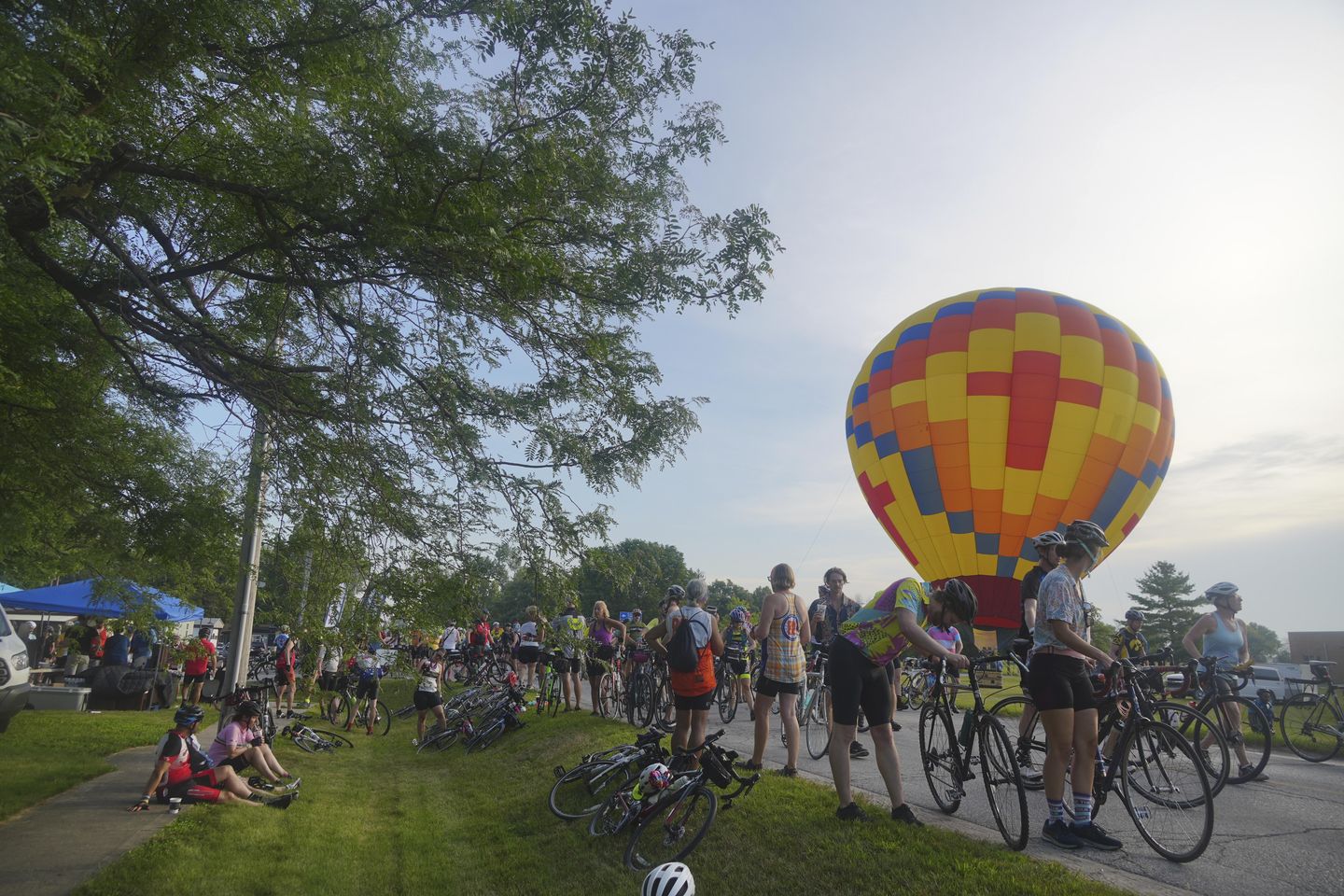 COLFAX, Iowa — In the small central Iowa town of Colfax, thousands of cyclists participating in the largest and oldest recreational bike ride in the world were stopped along its historic main street, staring ahead at a daunting climb that would lead them out of town.
The hill, coupled with soaring temps and the vibrant downtown, made a morning sitting in the shade quite appealing.
It's become almost simplistic to say that "small-town America" is slowly dying. That opportunities for young people have dried up, just like businesses and main streets. That the only way forward in life involves moving to a big city. But the reality is towns such as Colfax are flourishing, and that was especially evident on RAGBRAI, the annual bike ride across the state, where dozens of small towns dotting the 500-mile route welcomed some 50,000 riders with open arms.
---
---
Colfax is a prime example. It experienced a nearly 8% increase in population from the 2010 census to the most recent in 2020, turning around two decades of decline. Its population of 2,255 represented its highest since the 1990s.
Sure, many small towns are still struggling, but what has allowed those such as Colfax to thrive?
"Mostly, a wonderful mayor and council and volunteers that just ensure a vital community," explains Wade Wagoner, the former city manager for the small town of Lake Park, and now the city administrator for Colfax.
"Des Moines and the metro growing to the east doesn't hurt," Wagoner said. "Also, the fact that we still have a high school and citizens just approved a $14 million bond for athletic and academic improvements make people want to raise a family here."
Wagoner underscores that location is important. After the COVID-19 pandemic, when many jobs became partially or fully remote, people who may have once worked in a city could suddenly live just about anywhere, including small towns across America.
Wagoner goes on to talk about the smallest Fareway grocery store in the state, the coffee shop and bank and city hall, all of which make for a bustling hub. There's also a rich history with mineral water that makes Colfax's downtown large for its size.
In other words, Colfax has leaned into its strengths to create a community that people want to call home.
And every few years, big events such as RAGBRAI roll through, giving them a chance to shine.
"Lots of trash and (Port-o-potties," Wagoner said of the traveling circus, "but it is actually pretty cool. It lets us show off the town and certain businesses do make some money. Others find it a pain. But it's only for a single day."
If nothing else, the horde of cyclists are good for making money.
In Polk City, between the busy metros of Ames and Des Moines, high school students collected money to fund their after-prom party. Elsewhere on the ride, residents of Slater were using donations to build a new community center and library. In Breda, where the route went through Monday, the town was trying to raise $300,000 to replace the lights at its baseball grandstand, which was built in 1946 and has withstood the test of time.
Breda, population 500, is another example of a small town doing well. It has steadily gained residents for the past 30 years.
In the quiet hamlet of Oxford, just past the fire department and the Deja Brew Coffee House & Bakery, four boys took turns in a dunk tank Friday as cyclists passed through on a day of unrelenting heat – the index topped out at 112 degrees.
For just $5, riders got three shots at the tank. All the proceeds went to their little league program.
The boys were winning on two fronts: staying cool and making cash.
The population of Slater, just north of Polk City, has steadily grown the past three decades.
"Many young families have moved into Slater recently for the school system, and safety of our small town, and ease of getting around," said Evy Raes of the Slater Area Historical Association. "Our sense of community was tested when a derecho roared through in August 2020. Never fear: anyone with a pickup truck, a chain saw and a six-pack was out in the streets after the storm, helping neighbors clear and dispose of the debris. People really pulled together and no one was a stranger."
That sense of community isn't always felt in bigger cities. And more than anything, Raes said, that has helped them to thrive.
"We are a small town with big ideals," Raes said. "Many people who move into Slater feel an instant connection with the community. It is said though, 'Don't gossip about anybody who's lived here awhile, because they may be related to the person you're talking to.' My family has lived here over 74 years, and some days we feel like the new people."
Turns out that, at least in some small towns, there are in fact plenty of new people.
Copyright © 2023 The Washington Times, LLC.